SYNYSTER GATES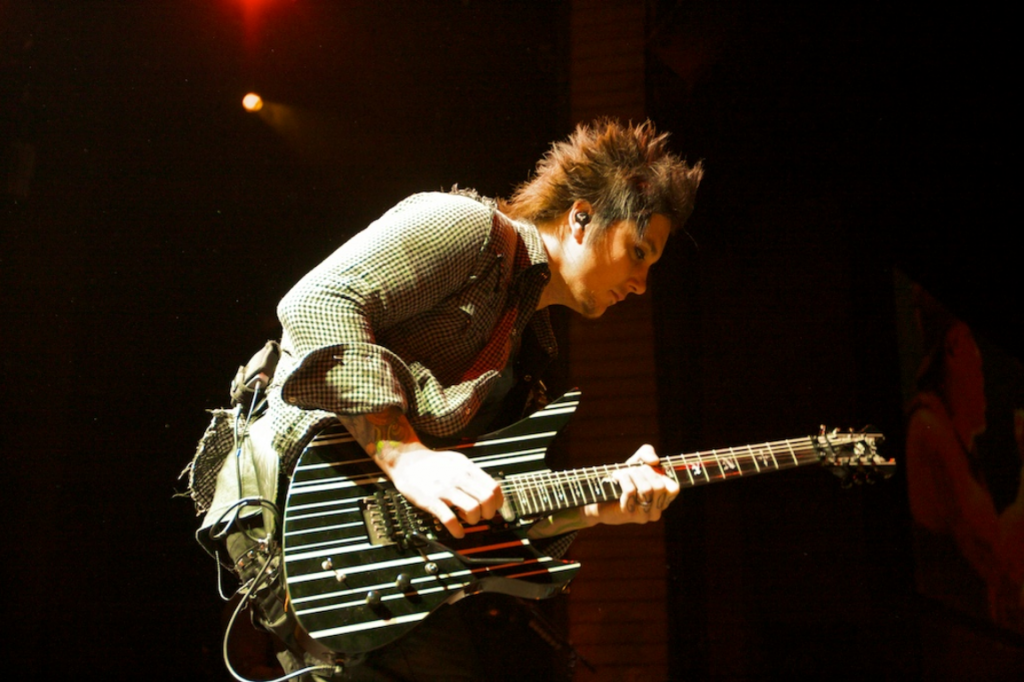 Synyster Gates adalah nama populernya, Brian Elwin Haner, Jr. adalah nama aslinya. (lahir di Huntington Beach, California, Amerika Serikat, 7 Juli 1981) merupakan gitaris kenamaan untuk grup musik Avenged Sevenfold.
Anak dari komedian sekaligus gitaris ternama yaitu Brian Elwin Haner Sr. lahir di keluarga musisi membuat nya sangat peka dan berbakat di bidang ini. Mendapatkan gitar pertamanya di kelas 6 SD yang di berikan oleh kakek dan neneknya.
Lagu pertama yang bisa dimainkan dengan gitar adalah Stairway To Heaven dari Band Legendaries Led Zeppelin.
Memulai karier nya bersama Avenged Sevenfold di tahun 1999. Lalu mulai merilis album pertama nya di tahun 2001.
Berhasil mengguncang dunia di Tahun 2005 dengan album "City of Evil" yang berisikan lagu-lagu ternama seperti Seize The Day, Bat Country, Beast and the Harlot, dan lain-lain.
Existensi nya tersebut membuat gitaris ini mendapat gelar Gitaris terbaik di dunia oleh beberapa Media di Amerika dan dunia. Dengan teknik gitar Shred nya pun gitaris ini berhasil menginspirasi gitaris-gitaris muda dunia.
Synyster Gates Rig Rundown :
Guitars
- Schecter Synyster Gates Signature Custom models with Seymour Duncan SH-8 Invaders and Sustainiac
- Schecter Avengers
- Schecter Custom C-1 FR and Hellraiser C-1 FR
- Schecter PT Fastback
Amps and Cabinets
- Schecter Hellwin Synyster Gates amplifiers (Hellwin USA 100) and cabs
Effects and more
- Digital Music GCX and Ground Control
- Visual Sound H20 Liquid Chorus and Echo
- A Custom Boost for solos
- Krank Distortus Maximus
- MXR Wylde Overdrive
- Boss SD-1 Super Overdrive
- Boss PH-3 Phase Shifter
- BOSS RV-5 Digital Reverb
- Boss CS-3 Compressor
- Boss BF-3 Flanger
- Digitech Whammy Pedal
- Electro-Harmonix Big Muff Pi Fuzz Pedal
- Seymour Duncan SFX-01 Pickup Booster
- Budda Custom Wah (2010)
- MXR Carbon Copy Delay
- Dunlop Crybaby (rackmounted)
- Audio-Technica 5000 Wireless System
- Electro-Harmonix POG pedal
- ISP Decimator pedal
- Dunlop DC Brick
- Ebtech Hum Eliminator
- Boss Tuner pedal
Strings Picks and Accessories
- Ernie Ball strings, gauged .010-.052. ('skinny top, heavy bottom' strings)
- Dunlop Tortex 1.14mm picks (as reported in 2010)
- Black Dunlop Gator Grip 2.0mm picks
- Rebel Straps Skull Bottle Opener Strap (the rebel lighter strap is pictured below)
- Rebel Straps Skull Pick Box Strap
- White Get'm Get'm Sergeant Stripes Guitar Strap
- Black Schaller Strap Locks
- Levy's Boot Leather Guitar Strap With Metal Bullets