JOE SATRIANI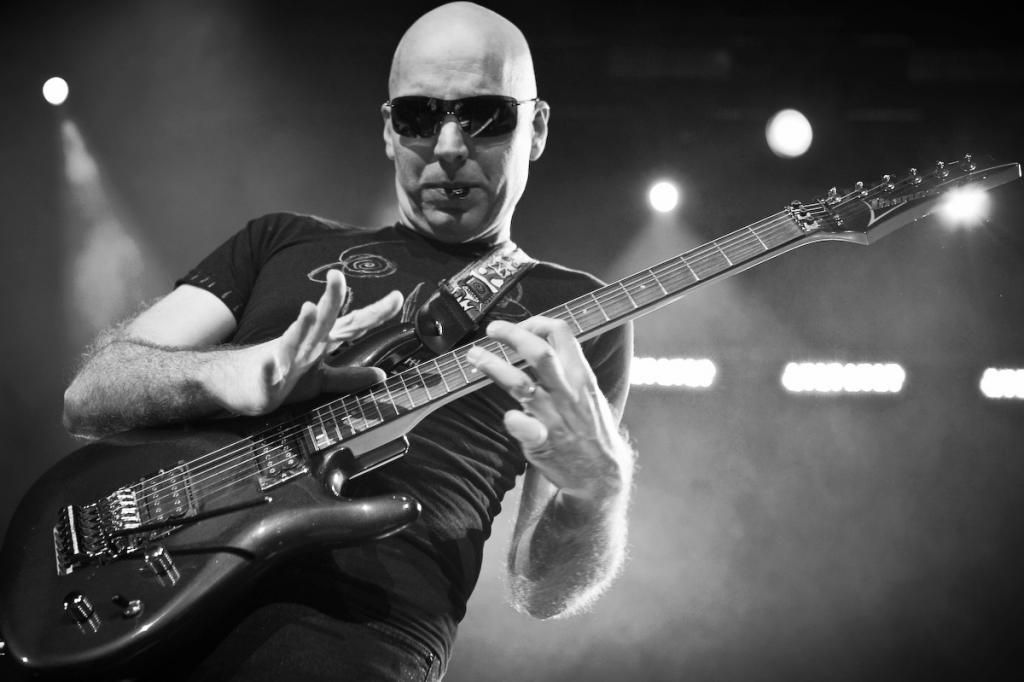 Lahir di Westbury, New York, Amerika Serikat, 15 Juli 1956, merupakan warga amerika keturunan Italia. memutuskan untuk bermain gitar pada saat umur nya 14 tahun, tepatnya setelah dia mendengar kabar wafatnya JIMI HENDRIX.
Karena sangat berbakat dia pun belajar dengan sangat cepat dan akhir nya dia memutuskan untuk menerima beberapa murid dan salah satu nya adalah Steve Vai. Kemudian di tahun 1974, Joe memperdalam musikalitas nya dengan berguru bersama Gitaris Jazz yaitu Billy Bauer dan seorang pianis Jazz yaitu Lennie Tristano.
Pada tahun 1978 akhir nya Joe Satriani hijrah ke Berkeley, California. Dan di sanalah akhir nya dia menjadi Instructor gitar kenamaan. beberapa daftar murid nya pun sekarang juga menjadi Gitaris besar dunia seperti Kirk Hammett - Metallica, David Bryson - Counting Crows, Kevin Cadogan - Third Eye Blind, Larry LaLonde - Primus dan Possessed, Alex Skolnick - Testament, dan lain nya.
Pada tahun 1986 Joe Satriani merilis Debut album nya yang berjudul "Not Of This Earth" yang berisikan 10 lagu, dan salah satu single nya adalah "Rubina".
Di Tahun 1987 Joe Satriani Merilis Album kedua nya berjudul "Surfing With The Alien" dan di Album inilah Joe banyak menuai Preatasi nya yaitu masuk di 3 besar tangga lagu Billboard, Best Instrumental Rock Album, dan lain-lain. lagu Always With me Always With you mendapat pernghargaan Best Pop Instrumental Performance, dan album nya Surfing with the Alien mendapat mendapat penhargaan Best Rock Instrumental Performance di ajang Grammy Awards tahun 1989.
Joe Satriani juga pernah menjadi Gitaris untuk Mick Jagger dan Deep Purple selama beberapa Tour.
Tahun 1996 Joe Satriani mengguncang dunia Gitar dengan mengadakan konser G3, Konser yang menyajikan 3 Gitaris dalam 1 panggung. Konser ini bisa di bilang sangat berhasil dan menginspirasi hampir seluruh gitaris dunia.
Gitaris yang pernah tergabung bersama G3 adalah Steve Vai, Eric Johnson, Yngwie Malmsteen, John Petrucci, Kenny Wayne Shepherd, Robert Fripp, Andy Timmons, Uli Jon Roth, Michael Schenker, Adrian Legg, Paul Gilbert, Steve Morse, Steve Lukather, dan masih banyak lagi. Dan sekarang G3 berubah menjadi G4 yang menampilkan 4 orang Gitaris dalam 1 panggung.
Discography :
Not of This Earth (1986)
Surfing with the Alien (1987)
Dreaming #11 (1988)
Flying in a Blue Dream (1989)
The Extremist (1992)
The Beautiful Guitar (1993)
Time Machine (1993)
Joe Satriani (1995)
G3: Live in Concert (1997)
Crystal Planet (1998)
Engines of Creation (2000)
Additional Creations (2000)
Live in San Francisco (2001)
Strange Beautiful Music (2002)
The Electric Joe Satriani: An Anthology (2003)
G3: Rockin' in the Free World (2004)
Is There Love in Space? (2004)
G3: Live in Tokyo (2005)
Super Colossal (2006)
Professor Satchafunkilus And The Musterion Of Rock (2008)
Unstopable Moment (2013)
Joe Satriani Rig Rundown
Guitars
- Ibanez JS-2400 Joe Satriani Electric Guitar - in White
- Ibanez JS-1000 and JS-1200 Signature Electric Guitars - Candy Apple Red
- Ibanez JS100 Joe Satriani Electric Guitar

- Ibanez Prestige Joe Satriani 20th Anniversary JS20TH Electric Guitar
- Ibanez JSA10 and JSA5 Satriani Acoustic guitars (black)
- Ibanez double neck electric guitar
Amplifiers and Cabinets
- Marshall JVM410HJS Joe Satriani Tube Guitar Amp Head
- modified Marshall JVM410H amplifier heads - modded by Santiago Alvarez
- Marshall 6100 Anniversary Head (past)
- Marshall 1960B 4x12 Straight Cabinet (Celestion 25W)

Accessories
- Dimarzio Joe Satriani guitar pickups
- Planet Waves Joe Satriani Signature Guitar Straps
- JS Signature Guitar Picks
Effects Pedal :
- Vox Satchurator distortion pedal
- Vox Joe Satriani Big Bad Dual Wah
- Vox Joe Satriani Time Machine pedal
- Vox Ice 9 Satriani Overdrive pedal
- Boss CH-1 Super Chorus
- Boss DD-3 Digital Delay
- Boss DS-1 Distortion (Keeley mod)
- Boss OC-2 Dual Octave
- Boss BF-3 Flanger
- Boss PS-5 Super Shifter Pedal
- Digitech WH-1 Whammy Reissue Pedal
- Fulltone Ultimate Octave Fuzz/Octave
- Groove Tubes Fat Finger Guitar Sustainer
- Chandler Digital Echo/Delay
- Electro-Harmonix POG
- Voodoo Lab Pedal Power (uses both AC and 2plus)
- Whirlwind selector
- Rocktron Banshee
- ZVex Ringtone
- Ibanez FL9 Flanger
- Voodoo Lab Proctavia
- Roger Mayer Voodoo Vibe
- Digitech 33B Units
Strings
- D'Addario EXL120 Electric Guitar Strings
- D'Addario EJ16 Phosphor Bronze Acoustic Guitar Strings